"I knew you were coming so I baked a cake" – Great British Bake Off's Flo Atkins surprises Southport homeowners with a welcome cake
Everybody's favourite Merseyside Bake Off contestant, Flo Atkins, welcomed new Homeowners to The Sailings, on Alexandra Road in Southport, by baking them a cake.
The star of Great British Bake Off 2017 impressed viewers with her melon illusion cake and made a return to our screens later that year on The Great Festive Bake Off, surprising the judges with her incredible Very Merry Pressie Christmas cake.
This week she paid a visit to The Sailings to share stories from her experience on the show and some festive baking and cake decorating tips.
Family favourite Flo threw herself into baking after her husband of 48 years died of leukaemia.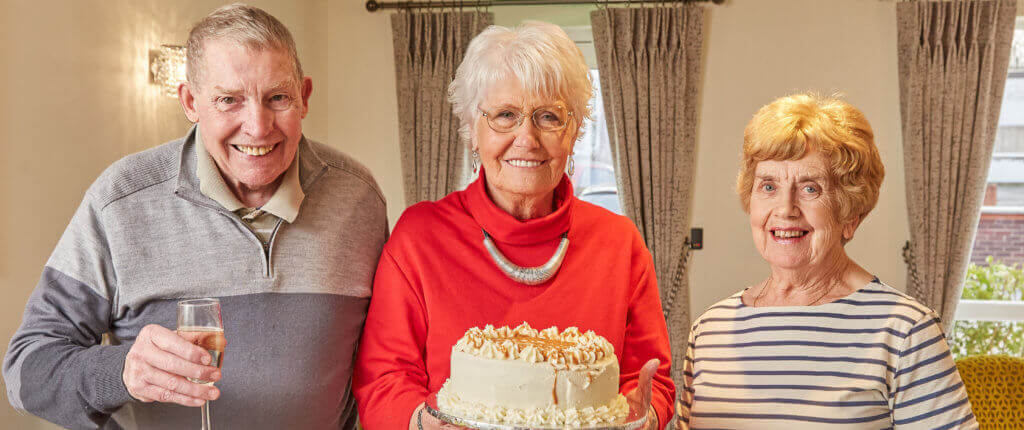 Flo said: "I was so devastated when Richard died and I was in a bad place. I couldn't laugh, I couldn't be bothered with life and I just found it so tough. He was such a good man and he was always putting me first.
"Stephen, my son, could see how upset I was and he asked me to bake for his restaurant. Then my daughter, Nicola, spotted an advert and applied without me even knowing about it.
"I've enjoyed sharing my stories with everybody at The Sailings today and I've met some really lovely people. I think some of those who came along are bakers themselves, so hopefully I've inspired them to try a few new things in the run up to Christmas."The event was organised by Adlington Retirement Living for Homeowners and their guests at The Sailings in Southport.
Alexandra Johnson, Sales and Marketing Director for Adlington Retirement Living, said: "Flo's story is really inspirational. I think it emphasises how important it is to enjoy doing something that you're passionate about in your retirement. That's why we offer a range of amenities and community facilities at The Sailings that our Homeowners can use as little or as often as they choose, from art classes to exercise. It gives everybody the opportunity of new friendships and interests. We hope that events like this week's 'Tea & Cake with Flo' add to the community spirit."
Jean Geddes, who recently moved in to The Sailings with her husband, John, said: "It's not every day that you receive a welcome cake from a Great British Bake Off contestant! I enjoy watching the show so it was really interesting to find out a bit more about how it all works behind the scenes. Flo was so warm and friendly and her cakes were delicious. I'll definitely be trying out a few of her suggestions in my new kitchen."
If you would like to find out more, a range of beautifully furnished show apartments are open to view daily at The Sailings, on Alexandra Road, from 10am to 5pm. Call our sales team, led by Karen McDonald on 01704 333958 to find out more or visit Adlington.co.uk.